Here is the new Windows 11 video by Microsoft. Take a look and explore all the new features it offers:
We have done some research on the internet and would like to share with you what we have found out. In this article, we show you what are the things you need to look out for before installing Windows 11.
Hope this guide provides you with some insight into what we have learned from this exercise.
Minimum System Requirements To Run Windows 11
Here is the minimum requirement your PC needs to have, in order to install Windows 11:
Processor
1GHz or faster with 2 or more cores on a compatible 64-bit processor.
RAM
4GB.
Storage
64GB or larger storage device.
System firmware
UEFI, Secure Boot capable.
TPM
Trusted Platform Module (TPM) version 2.0 (is used for identity protection and
BitLocker for data protection).
Graphics card
Compatible with DirectX 12 or later with WDDM 2.0 driver
Display
High definition (720p) display greater than 9″ diagonally, 8 bits per color channel.
Internet connection
and Microsoft
account
Windows 11 Home edition requires internet connectivity and a Microsoft account.
Switching a device out of Windows 11 Home in S mode also requires internet connectivity.
Looking at the above requirements, you should take note of 2 particular requirements which is critical for your PC to run Windows 11. These 2 components are the System Firmware and the Trusted Platform Module (TPM).
Secure Boot Capable PC
Secure Boot is an important security feature to protect your PC from malicious software from loading when you boot up the computer. It can only be changed in the PC firmware (the BIOS) and need a technical specialist to handle it.
Microsoft is making this feature mandatory to protect your PC against increasingly sophisticated cyber attacks. More hardware-assisted security is going to be put in place by Microsoft to protect your computer.
Trusted Platform Module 2.0
Windows 11 require an additional security feature called Trusted Platform Module (TPM) support.
This is a hardware-based security-related function and requires IT professionals to do it. There is a hardware TPM chip to carry out cryptographic operations, and it includes multiple physical security mechanisms.
The previous version is TPM 1.2 and can be found in Windows version 1607 (RS1). TPM 2.0 was released in October 2014, therefore a lot of older hardware will not work with Windows 11.
Because TPM 2.0 requires UEFI firmware, if your PC comes with legacy BIOS, TPM 2.0 will not work.
Windows Display Driver Model 2.0
This version is only available from Windows 10 and the latest version as in 2021 is WDDM 3.0 as of October 2021. Windows Display Driver Model (WDDM) aims to support better graphics performance, new graphics functionality, and stability.
You can check your current PC WDDM version by typing dxdiag into your Taskbar search. This will open the DirectX Diagnostic Tool, reports you all the detailed information about the DirectX components and drivers installed on your system.
Windows 10/11 Home vs Pro vs S Mode
Home is the standard version for Windows 10 or 11. It is targeting the general consumer market, containing all the core features in a PC.
The Professional version of Windows 10 or 11 has additional features than the Home version on security and management services. The powerful and configurable BitLocker Encryption is one of the features only contain in the Pro version.
Windows 10/11 in S Mode is a version Microsoft configured to run on lighter devices and gives you higher security and simplified PC management. It makes the Windows run faster, prolongs the battery life, is more secure, and is easy to manage. When in S mode, only apps from Windows Store are allowed to install. Also, the browser needs to be Microsoft Edge and the search engine must be Bing.
Take note that Microsoft has committed to supporting Windows 10 till 2025, beyond it the company will not provide any further security and feature updates.
Tool To Check Your PC For Windows 11 Eligibility
Microsoft has made it easy for you to check whether your PC is suitable to install Windows 11. You may download the PC Health Check App and do a compatibility check.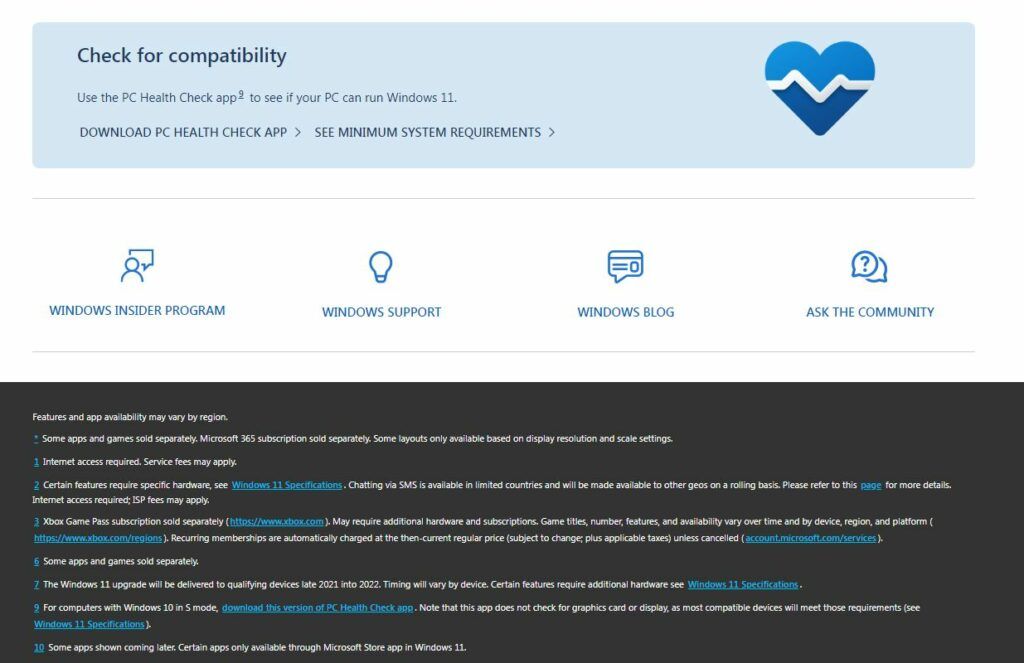 As a general guide, PCs purchased in 2016 or before are unlikely to meet Windows 11 minimum requirement. Therefore, do consider getting a new PC if you would like to explore the new and advanced features of Windows 11.
In order to download the PC Health Check App, Windows 10 version 1803 or later is needed. We try downloading the App on our Windows 7 PC, the below message appears on our PC screen: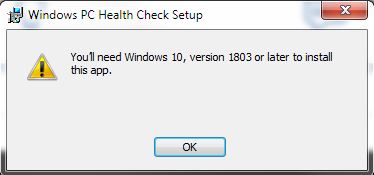 For those of you who have an Amazon account, you may wish to check out the new Lenovo IdeaPad 3 Laptop. It has a model which runs on Windows 11 out of the box and has a very good rating by Amazon Vine Voices (Amazon trusted reviewers).
Other Option To Check Windows 11 Compatibility
Apart from Microsoft's own tool to check your PC eligibility for Windows 11, you may use a third-party tool to check. Below is the other alternative you can consider:
WhyNotWin11 app
This is an open-source app by Github, allowing you to check whether your PC can run Windows 11. It performs the check by running a small script.
There are 11 categories to check on, based on the current app version 2.4.2.1 as of November 2021. These categories are Boot type, CPU generation, CPU compatibility, CPU Core Count, CPU frequency, DirectX support, Disk Partitioning, RAM installed, Secure boot support, Storage available, TPM version.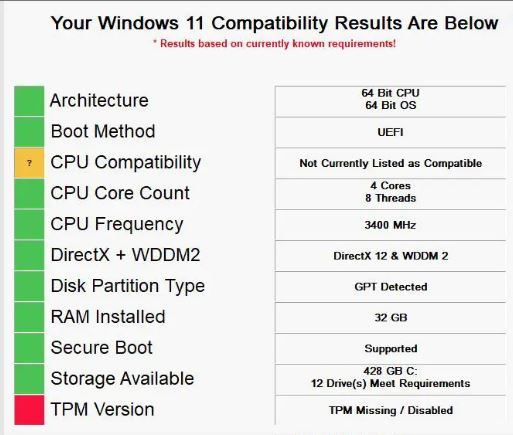 Final Thought
Windows has been part of our life for 35 years, since 1985 when it was introduced. It has gone through various versions and now comes to the new one, Windows 11.
As the same with other software releases, there will be bugs here and there before Windows 11 become fully functional and stable.
Windows 11 will be the new driving force for innovation, a platform for creation, and home to billions. It helps us do our job and connect with the people we love.
Windows 11 is the Windows of Tomorrow! It is the Windows that bring you closer to the things you love.
Get your Windows 11 Ready PC today!