Card with higher capacity and faster speed is important when shooting high-resolution photo and video. Therefore, choose wisely if you wish to have a good photo shot of your image.
Of course there are other SD cards which you can consider too, each of them has their unique features and characteristics to meet specific need of your particular usage. Feel free to read the list of SD cards below, which we have researched for you.
We have used many types of SD cards since it was introduced in the market in 1999. We worked with MP3 manufacturers to bundle 2GB SD card with their players.
We also helped big corporations to ODM their SD cards with original factory in Asia. Have gained tremendous technical aspects of the SD card pros and cons.
Check out the list below and choose one which match with your digital camera that give you the best picture quality.
Best SD Cards Suitable For Digital Camera
Most of us use Digital Camera to take photos and pictures. There are occasions we will do a video shot for event memory. All the photos and videos we took give us the sentimental value we treasure throughout our life. That is why, it is very important to use the best SD card to store all these valuable assets.
Here are 13 best SD cards which we have shortlisted for your reference. Feel free to give us your feedback if you find new one which you like or the brand has lower their quality standard since we wrote this article.
Here is one of the YouTube Video we found that done a H2testw comparing various brands of SD card, you may want to watch it to get some ideas before you make a selection:
There are more than a hundred brands of SD card you can find in the market. We only highlight 6 of the major brands here, and you can find them in Amazon Online Store. Visit those links we provide you and see which one you like the most.
Popular Digital Cameras With SD Card Slot
There are thousands and a thousand of digital cameras in the market as of today. It can be overwhelmed to find one you like. We just did research over the internet for 1 hour, and we can find various of them here, listed by brand:
Canon
Panasonic

Lumix TS30
Lumix GH5 Mark II
Lumix DC-S5
FZ1000 II

Ricoh
Sony

RX 100
RX IV
a6600
a7C
a7R
a7RIV
a7IV
a6400
Cybershot DSC-RX100 VII
ZV-1

Fujifilm

X100V
X-T30
X-T4
X-E4
GFX 50SII
GFX 100S

Nikon
Olympus
Leica
Pentax
GoPro Hero10 Black
DJI Action 2
Most of the digital cameras accept SD card to store photo and video on the external media. The built-in onboard memory usually has limited storage capacity. Majority of them come equip with one SD card slot for you to put in your memory card. We have listed a few of them below for your reference:
Digital Cameras With UHS-II Slot
UHS-II specification was announced in 2011. However, it took camera manufacturers several years to put it on their cameras.
Here are the brands which have their camera models equip with UHS-II higher bus interface. You may want to see which brand is your favorite and consider them if you are looking for a new digital camera.
Fujifilm

Models come with UHS-II: X-T1, X-Pro2, X-T2, GFX 50S
Model X-T2 and GFX 50S has dual UHS-II slots.

Olympus

Models come with UHS-II: OM-D E-M5 II, OM-D E-M10 II, OM-D E-M1 II, PEN-F
Model OM-D E-M1 II has dual SD card slots, but only slot 1 supports UHS-II

Nikon

Models come with UHS-II: D500, D850
Both models have 2 slots, but slot 1 is for XQD card, only slot 2 is for UHS-II

Sony

Models come with UHS-II: A9, A7R III
Both models have dual SD card slots, but only slot 1 supports UHS-II

Panasonic

Model come with UHS-II: GH5
Come with 2 UHS-II card slots

Samsung

Model come with UHS-II: NX1

Leica

Model come with UHS-II: SL (Typ 601)
Slot 1 accepts UHS-II, Slot 2 accepts UHS-I
UHS-I use a 9-pin interface, while UHS-II has a 17-pin interface with additional row of 8 pins. The new bus interface is backward compatible, thus a SD card with UHS-II will run only at 104MB/s.
By using 2 row of pins, one is assigned for downstream allowing the transfer of data from the device to the SD card. The other row is used for upstream, to transfer the data from the card to the device.
Technology Roadmap:
SD Association also introduced higher bus interface UHS-III and SD Express. These faster bus interface will be available on SDHC, SDXC and SDUC memory cards.
UHS-III can run at 624MB/s bus speed when at Full Duplex. SD Express even reach 3,940MB/s with PCIe Gen 4 x 2 Lane.
Things To Consider When Choosing Your SD Card
We wish to highlight, what are the things you need to consider, when buying a SD card for your digital camera. There are certain criteria you need to take note.
Different digital camera has different functions and features, therefore to optimize its capabilities, the SD card that you put in must match with it. Otherwise, the card may become useless or overkill.
Hours of Video and Photo you wish to store on the card

Depending on the number of hours you wish to shoot the video and take photo, for 24 hours shooting you will need to get a 64GB SD card. A typical 8GB SD card only sufficient for you to take about 4 hours shooting.

Video shooting Vs Photo Taking

For video shooting, a larger storage capacity is needed.
The price of memory card has decreased a lot throughout these few years. You can get a 64GB at less than $20. Therefore, get a SD card with at least 64GB if you take a lot of video.
To record video, choose the card with a V10 logo or higher. The number after V is the guaranteed write speed in MB/s. If you wish to record 4K video, choose card with V30 at least.

Read/Write Speed

The read and write speed of your SD card is important when you are doing continuous shooting. It will impact the burst mode.

Types of SD Card

There are 4 different categories of SD card, choose the right one for your digital camera with the suitable storage capacity.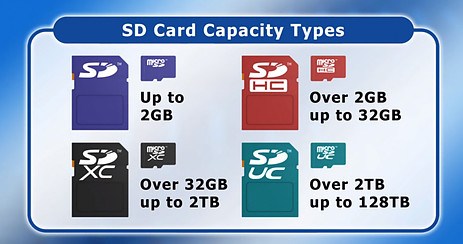 How To Care About Your SD Card
All of us do not wish to see empty card or card error when we want to see our photo shots after an event. Those moments of dismay are hard to bear and therefore we should pay full attention to the SD card we are using.
Listed here are some pointers we find particular important to look after the SD card:
Turn off your camera before taking out the card

When the SD card is doing the read or write, do not eject the card out from the camera. You may damage the card and cause your photo image to be destroyed. Wait till the reading/writing stop, or turn off the camera to prevent accidentally erasing the data.

Formatting the card in your camera before first use or after being used with other camera

Different camera may use other format to store your photo on the SD card. As such, do a formatting before you start your first recording. This will ensure the card work well with your camera.

Store your SD card on a safe place

Water, dust, static electricity will affect the reliability of your card. If serious, it may corrupt the data within the card. Stay away from all these and avoid extreme temperature. Do not bend or drop your card at all times.

Perform 'eject' function on your computer before taking out the SD card

This action will stop any reading/writing process on the card, thus preventing any further communication between the card and the computer processor. It helps to maintain the integrity of photo stored on the memory card.

Look out for sign of SD card corruption or damage

There are certain tell-tale signs that you can observe, before the card stop working.
When there is read/write error occurring, be alert and do your backup before the card become corrupted.
You have difficulty in inserting the SD card into the digital camera. The metal pins behind the card may come out of the alignment.
Should You Consider CFexpress Card
If you have a professional camera, likely the camera will have a slot for CFexpress card. There are two types of CFexpress card: Type A and Type B. Most camera makers like Canon, Nikon, Panasonic, etc use CFexpress Type B card. Only Sony uses CFexpress Type A card.
Sizes for both types are different: Type B is larger at 38.5 x 29.8 x 3.8mm and Type A is smaller at 28.0 x 20.0 x 2.8mm. Maximum bandwidth for Type B is 2,000 MB/s, whereas Type A is smaller at 1,000 MB/s.
Here are few of the CFexpress Type B card you can consider if your camera accept this kind of card:
SanDisk Extreme PRO CFexpress Type B Memory Card

Capacity: 64GB, 128GB, 256GB, 512GB
Read speed up to 1700 MB/s, Write speed up to 1,400 MB/s (for 512GB only)
This card is the first and best among CFexpress Type B cards
On Amazon their reviews are very good. Most of them rated this card 5 stars.
It can be used on cameras like Canon R5, Nikon D850, Nikon Z6.

Lexar Professional CFexpress Type B

Capacity: 64GB, 128GB, 256GB, 512GB
Read speed up to 1750 MB/s, Write speed up to 1,000 MB/s
Comments on Amazon not as good as previous SanDisk brand
It can be used on cameras like Nikon Z7 II

Prograde Cobalt

Capacity: 325GB, 650 GB
Read speed up to 1700 MB/s, Write speed up to 1500 MB/s
For Sony CFexpress Type A memory card, you can consider below:
Sony Tough CFexpress A Card

Capacity: 80GB and 160GB
Can be used on Sony Digital Camera A7S III
Read speed up to 800 MB/s, Write speed up to 700 MB/s
In Summary
Your photos or videos are memories which you can always refer to, when you want to recall those good and happy moments in your life. Therefore, make 100% sure that they will be protected and stored properly.
Choose those SD cards which are reliable, reputable, have sufficient storage for your application and take good care of them after the photo shots.
Check your digital camera features and functions, in particular shooting modes. Ensure the SD card is compatible with the camera.
Ready to buy your SD card now?
Visit one for the 13 cards we mentioned above, and make a selection. The best of the best we recommend is:
If you wish to get the largest capacity SD card, check out another article here and see what you can buy.