Before you make the purchase, take a look at our recommended smartwatches which have all the features you need for your texting.
We have done many hours of research and reading on the internet, spending more than one month on this topic and reviewing various sources. Feel free to leave any comment after you have read our blog post here.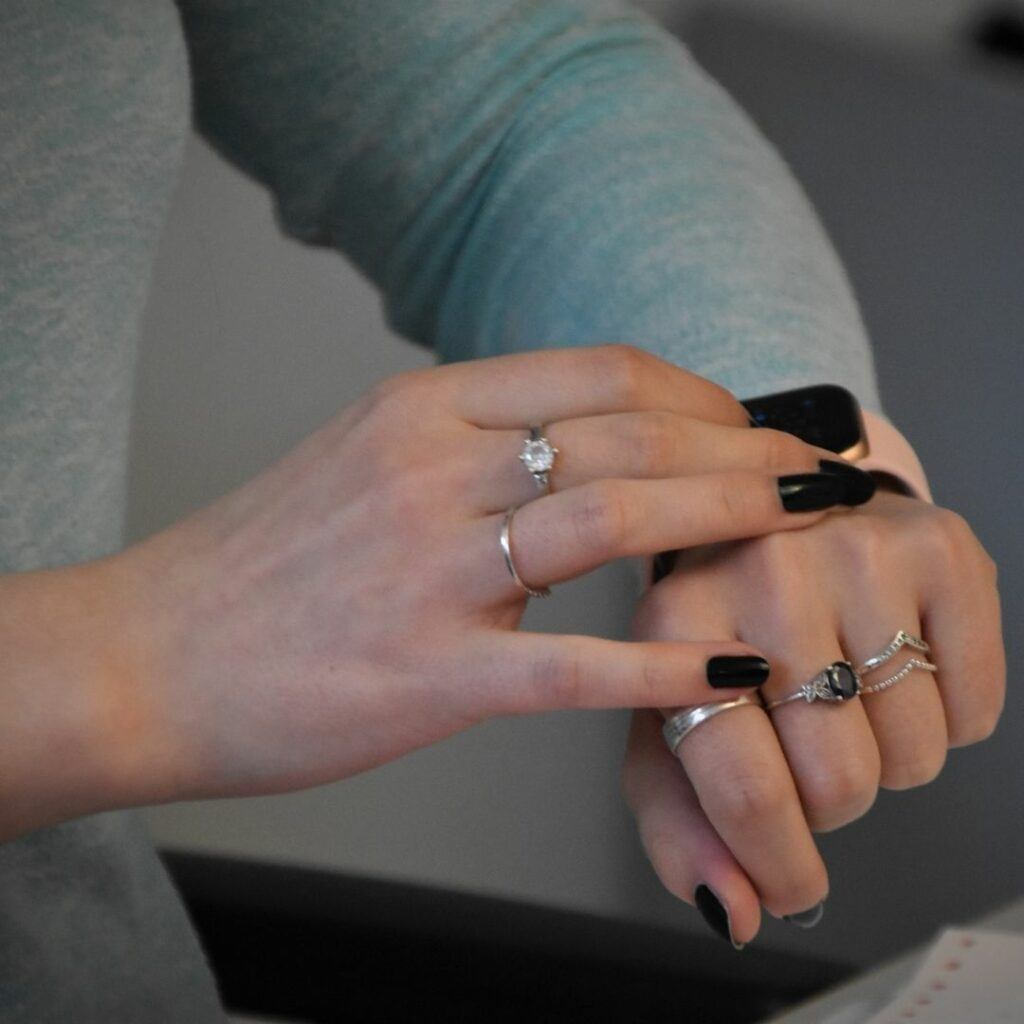 Why use the Smartwatch for Texting?
Not allowed to use a smartphone
No noise allowed
Privacy
There are times whereby you are not able to use your smartphone to make a call. For example, during a meeting or seminar, you receive an urgent message to reply immediately. It is at this moment, the usefulness of the smartwatch comes into play.
You can text your message on the smartwatch, without interrupting other people while you respond to an urgent request. You can even elaborate in detail in your text messages, how and what to do in each step, guiding your responder on what to do following your instruction in the text messages. 
More and more people are texting on their smartphones to communicate with others. It has become a habit the way they communicate with people around them, even family members. To keep up with the trend, smartwatches need to incorporate this texting feature; otherwise, it may feel odd to work without it.
What Features requiring for texting in a smartwatch?
Must be compatible with your smartphone

If you are an iPhone user, choose Apple Watch
Get the Samsung Galaxy Watch Series, if you have a Samsung phone
For Android phone users, choose smartwatches running in WearOS

The methods to send text

Using voice command
Handwriting on the watch screen/display
Able to send emojis
Able to send audio messages
Using WhatsApp, WeChat, Telegram, Twitter, Instagram, Linkedin, Facebook

Communicate via Bluetooth or cellular option (with cellular type more expensive)

you will need to pay a monthly fee to your phone carrier for the cellular plan at $10 for each user 
The bluetooth version used in your smartwatch will impact its battery life, with Bluetooth 5.0 uses less battery power but better signal reach and higher transmission quality

Long Battery Life

Smartwatch uses a lithium-ion battery to power up
An average smartwatch can last for about 1 to 2 days
Garmin Fenix 6X Pro Solar has the longest battery life at 120 days, due to its solar charging capability and better power storage.
To prolong the battery life, you need to limit those power-hungry features like always-on display and 24 hours tracking.

Mics allow you to use voice for texting, hands-free calling, and voice commands

Higher sensitivity mics are better for recording your voice clearly
Voice assistant features like Siri, Alexa, and Google Assistant
Using MEMS Microphone due to its compact size, low power consumption, and withstand vibrations.
Main suppliers could be Knowles, Goertek, STMicroelectronics, and AAC Technologies

Customized template allowing you to send text according to your preference

For Apple Watch, you can customize your reply message on the iPhone by editing the default message with your customize text

A bigger display is better and easier for writing and reading text

Currently, Ticwris and Refly smartwatches have the largest screen size at 2.86" in the market. If you like big-screen displays, take a look at the Amazon online store for these smartwatches.

The Always-on display allows you to see the text clearer

This feature is preferred by many users as it stops the smartwatch from going to sleep
It avoids unnecessary taps on the display or flicking your wrist making you look odd at times
What are the benefits of texting using a smartwatch?
Discreet when you are in a meeting without appearing rude watching your phone
Written confirmation and greater clarity compared with spoken words which can be ambiguous at times
Able to refer back for reference even months or years later
Which are the Smartwatches available for texting?
Here are the 10 Best Smartwatch for Texting we have selected for you to consider:
"We are supported by our audience on this website. When you purchase through links on our site, we may earn an affiliate commission at no cost to you."
1. Best for iPhone – Apple Watch Series 7
latest release from Apple in October 2021
The new QWERTY keyboard on the screen allows easy input of text, with machine learning capability to predict what word you are typing
Large 32GB storage as compared with other brands
20% more screen area than Series 6 let you see more on the screen
Always-on Retina display gives you clearer text on screen
Dictating through Siri
Customizable templates
Smart replies
Feature scribble (convert messages, handwritten on the screen into text)
Reply with an audio clip, emoji, memoji, sticker, tapback, digital touch
Cons is price expensive, if it is main consideration, opt for Apple Watch SE instead -> cheaper with most features available but without the ECG and Blood Oxygen functions
target Samsung phones
Use the text templates
Use handwriting-to-text function
Reply with emoji or memoji
Has both Bluetooth and cellular/LTE version
If pair with iPhone texting/email may not work
sleek (only 10.9mm thin) and lightweight (only 37g) design with a touch bezel
able to monitor and track your blood pressure via Samsung Health Monitor App
the Electrocardiogram (ECG) allow you to follow your heart rhythm and test for atrial fibrillation (Afib)
3. Samsung Galaxy Watch 4 and Watch 4 Classic
The Classic version is $100 more than the standard version
Watch 4 Classic features a better material stainless steel case and leather strap
Watch 4 Standard type uses lightweight aluminum case and silicone strap
Powered by Google WearOS
First introduced body composition analysis
Has message app pre-installed inside the watch
Allowing you to use your voice to send/reply to text messages
You can also use your handwriting 
Or use emoji
Can also use third-party apps such as WhatsApp to send/reply to messages
4. Best for Google WearOS – Ticwatch Pro 4G
US Military Standard 810G certified its durability
Super long battery life with layered display features allowing the battery to last from 2 days to 30 days (using Essential Mode). Thanks to its second, low-power display which keeps smartwatches running longer.
Display size is 1.39", both for the OLED and overlaid LCD
Come with Google Assistant allows you to answer calls when your hands are busy with other things.
5. Fitbit Versa 3
Has customized text templates to use
Has text-to-voice feature
Large display at 1.58"
Built-in Amazon Alexa Assistant and support Google Assistant
Come with vibrating notifications (a discrete way informing you someone trying to reach you)
Larger display than Versa 2 and higher resolution
Has a superb battery life of 6 days
has built-in GPS good for fitness run tracking
6. Samsung Gear S3 Frontier (Best Budget)
4 ways for you to send text

Using voice converting into text
Make use of the built-in emojis
Take advantage of the keypad on display
Handwriting on the smartwatch screen

Popular due to its rotating bezel interfacing with the OS
Super AMOLED display with 360 x 360 resolution
Run on Samsung's proprietary software – Tizen
7. Motorola Moto 360
Running WearOS by Google
Many Apps (Whatsapp, Google Maps, Spotify, etc you love are on your watch)
Fast full charge in 60 min
Always-on display, no tilting required
8. Fossil Gen 5 LTE
Detail explanation teaches you how to send messages by the text below
You have 4 options to send/reply to a text message
Power by Google WearOS which you can trust
A leading Global watch brand you will feel proud to own one
Work best with Android phones
9. Smartwatches for kids
When your child is too young for a smartphone, getting them a smartwatch is a better option
VTech has a wide range of smartwatches for kids, from texting to learning
10. Best Chinese Smartwatches
With 1.4 billion population, China is a huge market and there are many Chinese Smartwatch makers you can consider like Amazfit, Huami, LEMFO, Huawei, etc
Chinese brands are much cheaper but with high quality and outstanding features you should consider
Guide to buying the Best Smartwatch for texting
Make sure it is compatible with your smartphone

For example, if you are using iPhone, it is better to get an AppleWatch instead of a Samsung Galaxy Active 2 because some of the features will not work
Same if you have a Samsung phone, getting Galaxy watch series will allow you to use Samsung own watchOS (Tizen) functionality
For Android phone users, our advice is to get those smartwatches with Google WearOS, targeting Android users

Have enough battery power allowing you to do texting

The minimum hours your smartwatch needs to last when you are out in the field is 18 hours, that is the number of hours after you minus off your 6-hour sleep. That is why Apple Watches last at least this amount when you use most of its features and functionality.
Some smartwatches can last up to 21 days, there are trade-offs that you need to forgo like disabling the Bluetooth feature, removing the Always-on Display functionality, turning off some of the sensors

Sensitive mic so it can detect your voice

The Voice-to-text feature is on the smartwatches, thus having a good mic with high sensitivity will help to detect your voice clearer

Size of display or screen

A bigger and brighter display will allow you to text and read
Sturdy and tactile

Other features which you need on top of the texting capability like fitness tracking, health check, deliver notifications, apps, etc
Talk-to-text or talk-to-type feature allows your spoken words to convert into text. This feature is very useful since all smartwatches have a very small display to input text. By using this talk-to-text feature, you can overcome the limitation the display can provide
A good keyboard that is easy to use, big enough for you to press the alphabet/numbers, and responsive to your touch on the smartwatch display.
Watch Case and Wrist Band

There are 3 main types of case materials used in most of smartwatches: aluminum, titanium, and stainless steel; each having its own unique characteristics like heavier/lighter, durability, scratch-resistant, etc
Most smartwatches offer a wide range of wrist band for customization, allowing you to match your personality
Final Thought
We hope you have gathered useful information from the above article and are keen to have your favorite smartwatch with you.
Amazon offers a wide range of Smartwatches with texting capabilities and useful features. You will be able to select one which meets your specific needs. 
We welcome you to visit any of the 10 Smartwatches we listed above, and choose the one you love the most.