With music storage on your smartwatch, you do not need to carry your phone anymore. Enjoy your music with your beloved smartwatch while going out for run, walk or any outdoor activity.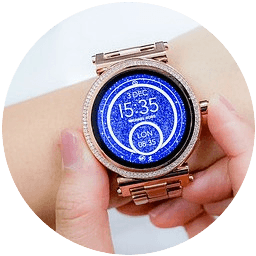 The tech-savvy and millennial populations are fast adopting wearable devices in their daily life, and this has driven the demand of smartwatches around the world. This also lead to better features, performance and price for all the smartwatches in the market. Time to get one for yourself today.
What about listen to this beautiful song (Shatter Me by Lzzy Hale) which I recently enjoy very much when I want to boost up my morale. This song really made my day!
How To Store Music On Smartwatch
Depending on the type of smartwatch you are wearing, different apps is required to store music on your watch.
For Google WearOS smartwatch, open the Google Play Store app and download the Play Music app. Sign in your Google account and those musics store/create on your phone will be available for you to play.
The number of songs you can store on your smartwatch depends on the on-board memory. The bitrate used for encoding the music has an effect on the file size, with 256 Kbps require a larger file size than 128 Kbps. Encoding method too will determine your music size, with variable bitrate (VBR) occupy smaller size and produce better sound.
Different audio format utilizes different file length, with MP3 standard uses more file size than others like AAC. The quality of music affect how large the file size you need as well. For example, AAC is better than MP3 and is more efficient in handling the compression and allow you to store more songs.
To determine how many songs you can store in 1GB of storage with MP3 audio format, use below formula:
(seconds * bitrate) / (8 * 1024)
where "seconds" is the length of song in seconds, the result will give you an estimate of how many megabytes (MB) need per song. Typically, most songs is 3.5 minutes long and having 128 Kbps for MP3 format. That works out to be 3.28MB/song.
You can estimate how many songs can store in 1GB of storage space, by using this formula:
1024 / 3.28 which gives you an estimate of 312 songs in 1GB storage
Here are some figures we have gathered from online:
| | |
| --- | --- |
| Garmin Vivoactive 4 | 3.5GB storage, can store up to 500 songs |
| Garmin Forerunner 245 music | can store up to 500 songs; can play music via drag-&-drop from MP3 library |
| Garmin Forerunner 645 music | 3.5GB storage, can download up to 500 songs |
| Garmin Fenix 6 Pro | 32GB storage, can store up to 2000 songs, support offline playback |
| Garmin Venu 2 | 4GB storage, can store up to 650 songs |
| Garmin Forerunner 945 | 14.5GB storage, can store up to 1000 songs |
| Garmin Forerunner 745 | 8GB storage, can store up to 500 songs |
| Samsung Galaxy Watch 3 | 8GB storage, can store music from 3-party apps like YouTube & Spotify |
| Samsung Galaxy Watch 4 | 16GB storage, can store music from 3-party apps |
| Samsung Galaxy Watch 4 Classic | 16GB storage, can store music from 3-party apps |
| Apple Watch Series 7 | 32GB onboard storage (media limit set at 8GB), able to store up to 2000 songs |
| Fitbit Versa 3 | 2.5GB storage, can store up to 300 songs |
| Huawei Watch GT 2e | 4GB storage, can store 500 songs |
| Coros Vertix 2 | 32GB storage, allowing 2000 songs to store on the device |
| Amazfit GTR 2 | 3GB storage, storing 300~600 songs on the watch |
| Amazfit Stratos 3 | 4GB storage, can store about 800 songs |
| TicWatch Pro 3 | 8GB onboard storage, can store 500 songs |
As you can see from above findings, the number of songs which can be stored on each type of smartwatch varies, depending on the quality, audio format, length of music, encoding methods and other factors as well. Use it as a guide and reference only, and play around with your own devices and manage your music playlist individually.
To play music directly from the smartwatch, you can download MP3 format music onto the watch. You may want to watch below video to see what type of streaming you can get from different service providers:
Different Ways To Play Music On Smartwatch
There are 2 main ways to play music on your smartwatch: Online streaming or offline music playback.
For streaming of music, you need to subscribe to service providers like Spotify, Apple Music, Amazon Music, Deezer, iTune, iHeartRadio, Google Music, Pandora. Download their app on your watch and pair it with your Bluetooth headphone, there you go and start listing to your music. Do be aware that streaming will drain your battery faster, so remember to recharge your battery each night.
You may want to view this review of the best music streaming services in the market. Your smartwatch need to have the cellular (LTE) function and you need to have the data plan with cellular service provider.
For offline music playback, you can download the music from your smartphone to the smartwatch. Depending on the onboard memory on the smartwatch, you can store few hundred songs on your watch (300, 500, 700 or even 1000 songs).
7 Best Smartwatches With Music Storage
According to a report by Mordor Intelligence, in 2020 there were about 68 million smartwatches in the market. The company estimate that by 2026, the volume will increase to 230 million units.
Majority of the units come from these makers: Apple, Samsung, Garmin, Fitbit, Amazfit, Huawei, Imoo and Fossil Group. But, not forgetting there are also thousands of other smartwatch makers competing in this growing market. Consumers are spoiled with wide variety of choices each day.
In this article, we focus on the major smartwatch makers which having the models with good music playing. Have a read and find one which you like.
#1.Apple Smartwatch
From Apple Watch Series 3 onward, all the models can play Apple Music, support download from Spotify with subscription, has Google's Youtube Music app. There is a limit of storage space for music at 8GB (including podcasts, audiobooks). The Latest model Apple Watch Series 7 also has music playing capability. Do not assume all the 32GB can be used for your music.
#2.Samsung Smartwatch
Recent Samsung Galaxy Watch 4 or Classic model will be running Wear OS 3 which pre-installed with Google Play Store. That allows you to install Spotify and YouTube Music to store your lovely music on the watch for offline playback. Other Samsung Smartwatch models include Galaxy Watch 3, Galaxy Watch Active 2, Galaxy Fit 2 can play music too.
#3.Garmin Smartwatch
Garmin Forerunner 245/645 Music, Garmin Vivoactive 3 Music, Garmin Forerunner 945, Garmin Fenix 5S/5/5X plus, Garmin Venu SQ Music are models which provides music storage and playback. They also have Spotify and Deezer support.
#4.Fitbit Smartwatch
Fitbit Versa 2 and 3, Fitbit Sense are Fitbit models with music function on its smartwatch. There is music app on the watch which you can utilize.
#5.Amazfit Smartwatch
Based on Amazfit website, Amazfit Stratos 3, GTS 2, GTR 2, GTR 3 pro all have the music storage function for you to play song on the watch.
#6.Huawei Smartwatch
Here are some models from Huawei you can consider: Watch GT3 (new), GT Runner, Watch 3, Watch 3 Pro, Watch GT2 Pro, GT2, GT 2e. All of them allows you to play music and streaming from service providers.
#7.Fossil Smartwatch
The Latest model is Fossil Gen 6 come with Qualcomm newest Snapdragon chip Wear 4100+. It has longer battery life than Gen 5 and Oxygen Saturation (SpO2) has been added. Google Play Music app is the primary choice for Fossil Smartwatch listening music. You can install it from the Google Play Store, since Fossil using WearOS.
Guide Selecting Best Smartwatch To Play Music
Before you buy your smartwatch, you may want to read their features list and technical spec. For smartwatch which play well with music, these are the features you may want to pay particular attention:
No.1) Reliable Smartwatch Makers
Famous brands like Apple, Samsung, Fitbit, Garmin, Fossil, Huawei are makers with strong reliability you can trust. You will be assured of support and upgrade for few years after your purchase.
No.2) Offline Music Playback
If you love streaming live music, the smartwatch you want to buy need to have the cellular function. That will allow you to connect with the internet at all times. Otherwise, smartwatch without the LTE connection can play song offline, by downloading/transferring the songs onto the watch from PC or smartphone.
No.3) Bluetooth Connection
As the smartwatch has limited space to cater for a good speaker inside, you need to choose those watches with reliable Bluetooth connection. Bluetooth 5.0 has lower power consumption, more superior signal reach and transmission quality than previous version.
Bluetooth 5 was released in July 2016 and the latest version is Bluetooth 5.2 released in January 2020 with faster speed reaching 2Mbps and distance covering up to 40m indoor.
Not many devices have the Bluetooth 5.2 incorporate inside, even latest Apple Watch Series 7 come with only Bluetooth 5.0 when launched in October 2021.
It is recommended to consider smartwatch with Bluetooth 4.0 and above, because it will have Bluetooth Low Energy (BLE) or Bluetooth Smart feature, which allows devices to stay paired longer using less power.
No.4) Your Budget
There are smartwatch models which cost less than US$30 like KALINCO for those with limited budget. If you are those super wealthy individual, Apple Watch has one super luxurious custom designed model Apple Watch called Brikk Lux Watch Omni. It has 18k yellow gold with 12 karat diamonds on the watch and cost US$114,995 to get one.
No.5) Onboard Memory Storage
If you like to store a lot of songs on your smartwatch, choosing one with large onboard memory will meet your need. Apple Watch Series 7 & 6, SE has 32GB onboard memory. Various other brands like Garmin Fenix 6 also offering 32GB internal memory, storing more personal and entertainment data. Most smartwatches come with 4GB internal memory. The memory is used for storage of apps, photo, music, games, watch faces and more.
Features Which Are Very Useful:
Music Sync
This feature allow you to switch back and forth between devices, you still can listen to same music. For example, when you are at home listening to music on your iPhone, when you go out and wear the smartwatch, the watch automatically refresh its music library and play the same music.
DRM Free Music
This refers to Digital Rights Management music files not containing any restrictions, allowing you to access the music by any program.
The Bottom Line
Music can really help to reduce our stress and boost our motivation and productivity. With a lighter and convenient device like smartwatch on our hand, we can enjoy those musics which we like and love.
Make use of the modern technology and enhance your life experiences. The benefits are enormous and you will never regret getting a smartwatch with music on your hand, at anytime, everywhere you go.
Check out those models which we recommend above and see which one you love to have TODAY.
We have other smartwatch articles on Best Smartwatch for Texting and How Does A Smartwatch Measure Blood Pressure. Feel free to read through them for additional knowledge.