Here we list out the most common types of SSDs you will come across. As technology evolves, new kinds of SSDs will emerge and we will share with you when it enters into the market.
Table of Content
1) 2.5" SATA
2) M.2 SATA
3) M.2 PCIe NVMe
4) mSATA
5) U.2
6) Add-in Card
7) None
Choosing the right type of SSD for your computer will help to improve performance. The interface between the SSD and other components is also important. Have a look at each type and decide which one meets your needs.
1) 2.5" SATA
The full name for SATA is Serial Advanced Technology Attachment. This is the most common SSD used in the market and also the oldest form factor. It requires the power and data cables to connect from the SSD to the motherboard and the power supply. 
According to Wikipedia, SanDisk introduced a 2.5" SATA SSD around 1998. SSD continued to evolve and developed with newer form factors and technology.
The latest and fastest is SATA III. It has a data rate of 6.0 Gbit/s and the maximum read speed is 600MB/s. The advantages of this form factor are backward compatible with many old PCs which use HDD.
Pricing of 2.5" SATA SSD is the lowest and it comes standard with a thickness of  7mm. You can add a spacer to increase the thickness to 9.5mm if you wish.
2) M.2 SATA
M.2 form factor resembles a gum-stick and is much smaller in size as compared with the 2.5" SSD. The standard width is 22mm, with different lengths in 42mm, 60mm, 80mm, 110mm, etc.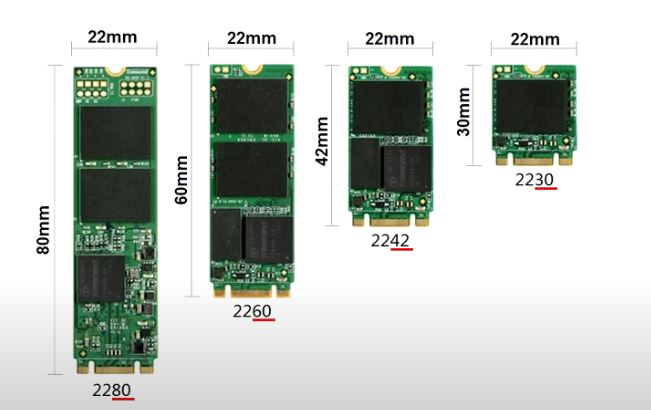 The former name for M.2 is Next Generation Form Factor, NGFF. It can accommodate both SATA and PCIe connectors, as well as a USB 3.0 connector. 
M.2 SATA runs on AHCI protocol and is limited by the SATA interface. The M.2 slot allows the SSD to be put into the motherboard, with some motherboards having 2 or 3 slots for expansion.
You need to fold down the M.2 board when inserting inside the slot and lie flush with the motherboard. 
M.2 slots can either be SATA-specific or PCIe-specific. It comes with a unique mechanical key, and label on the motherboard.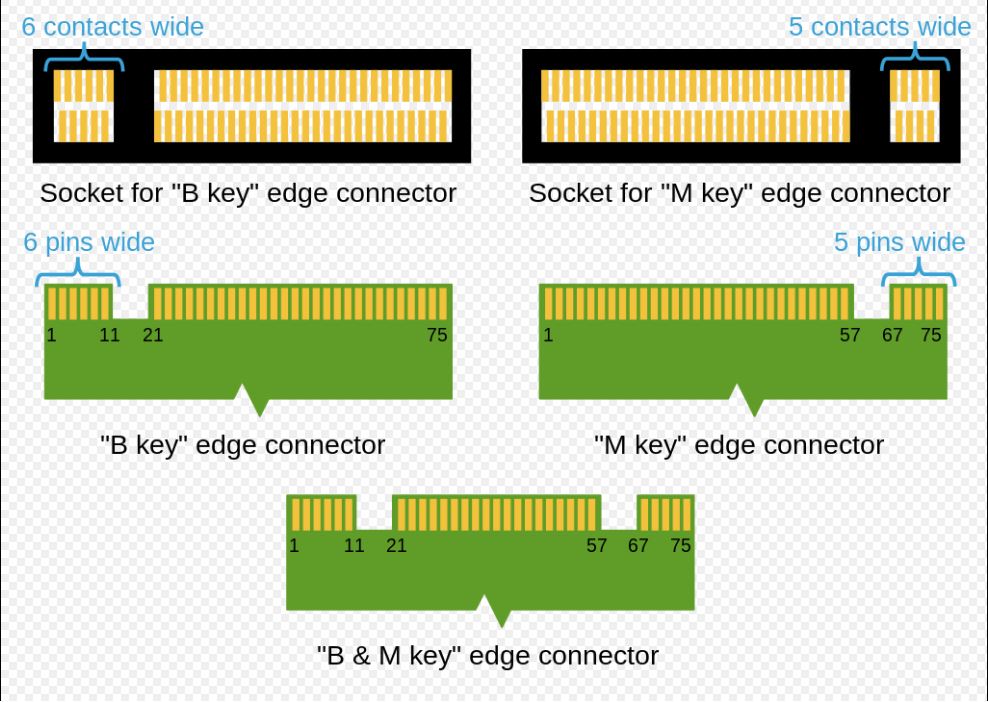 As of writing, only M.2 can support NVMe but not 2.5" SATA and mSATA. It will mount within the desktop or laptop computer.
3) M.2 PCIe NVMe
This particular version of M.2 SSD uses a PCIe interface to communicate with the PC motherboard. It can support the NVMe protocol, which allows 64,000 commands to communicate via the PCIe bus.
M.2 PCIe can run speed up to 10Gb/s, higher than M.2 SATA interface. The type of PCIe slot available depends on the motherboard. There are 5 different physical configurations: x1, x4, x8, x16, x32. The number behind denotes how many lanes it has.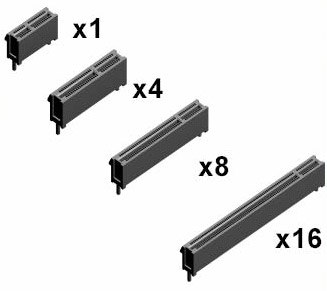 M.2 SSDs which are PCIe-based and use NVMe protocol can support up to 4 PCIe lanes. The reading speed for NVMe SSD can go up to 2600MB/s. If you often transfer large files, you will love to have an NVMe M.2 SSD.
A 'B' key will allow the PCIe bus to run up to 2x lanes of bandwidth. While an 'M' key provides the PCIe bus to run up to 4x lanes of bandwidth. 
In 2019, NVMe M.2 SSDs launched PCI 4.0 interface and have a reading speed of 5.0 GB/s and writing speed up to 4.4GB/s.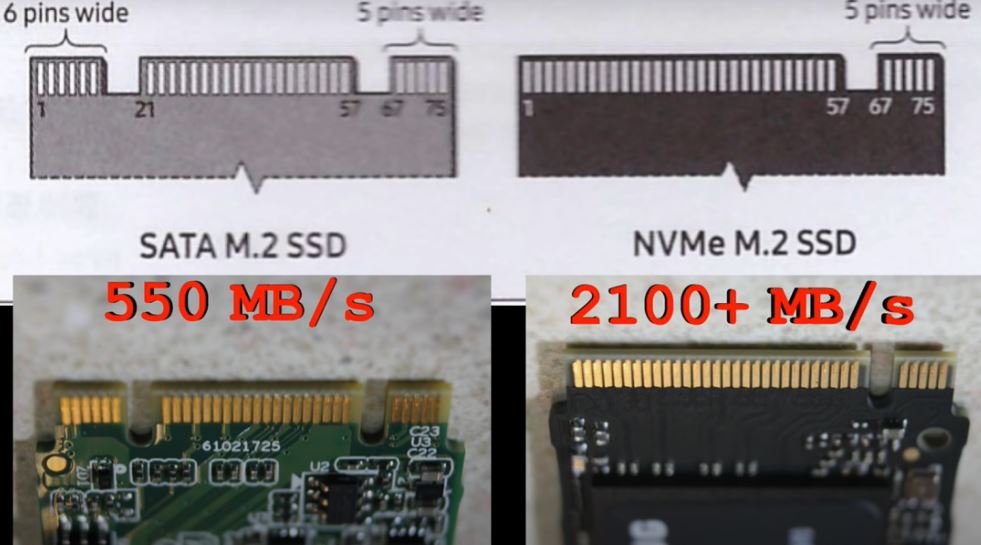 The first release of NVMe specification was in March 2011. In May 2018, they released the current version 1.3C and now most latest PCs are using NVMe SSD. 
From 2016, Apple new models like MacBook Pro with Touch Bar, iMac Pro, Retina MacBook/iMac all using NVMe SSD.
The performance of NVMe SSD depends on PCIe revision and the number of lanes available. 
PCIe 2.0 supports 500MB/s per lane
PCIe 3.0 supports 985MB/s per lane
Most NVMe SSDs use a 4 lane(x4) interface. Thus if 500MB/s per lane, 4 lanes means maximum speed at 2000MB/s
While using M.2 SSD, the NVMe protocol may need to be enabled before using it.
4) mSATA
mSATA is the short name for mini-SATA. You hardly see this type of form factor in the market now. M.2 SSD has replaced it.  
The size of mSATA is about 8 times smaller than 2.5" SATA. This makes it suitable for devices that have size constraints.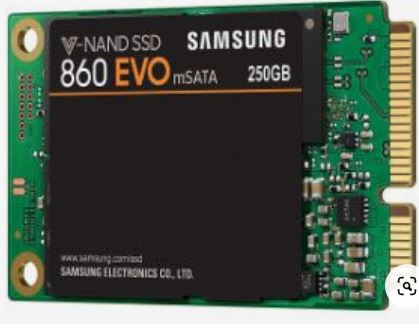 Before M.2 came about, all the thin laptops and tablets used mSATA as their storage devices. It is a bare circuit board without an enclosure. 
It uses only a SATA interface so the data rate is limited to 6 Gb/s. The card width is 30mm and 50.95mm in length. 
mSATA uses more in industrial storage, as compared to consumer storage.  
5) U.2
This type of SSD is used in server or high-end computer storage systems. The size is about 2.5" and you can see the U.2 SSD before PCIe came into the market.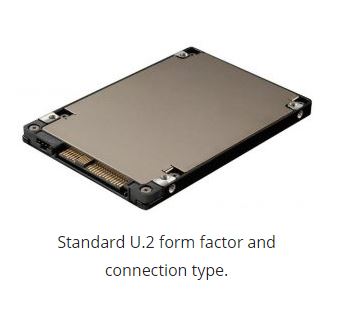 It is thicker than 2.5" HDD/SSD and uses a U.2 interface. It is hot-swappable and was named U2 in 2015. 
U.2 SSD uses a PCIe bus with x4 lanes and 2 SATA lanes to connect to the PC. It also allows more power because it can use 3.3V and 12V. This type of SSD needs a cable like a double-decker SATA connecting from the SSD to the motherboard. 
This SSD can support bandwidth up to 32Gb/s. Offering high speed, low latency, and low power consumption. 
Very few motherboards offer support for U.2 SSD so check before you buy it. U.2 SSD has good heat dissipation because its backside has fins made of aluminum alloy.
6) Add-in Card
This kind of SSD requires the PCIe slot on the motherboard. The card will insert into the slot and operate over the PCIe bus. It is like a sound/video card plug into the PCIe slot on the motherboard.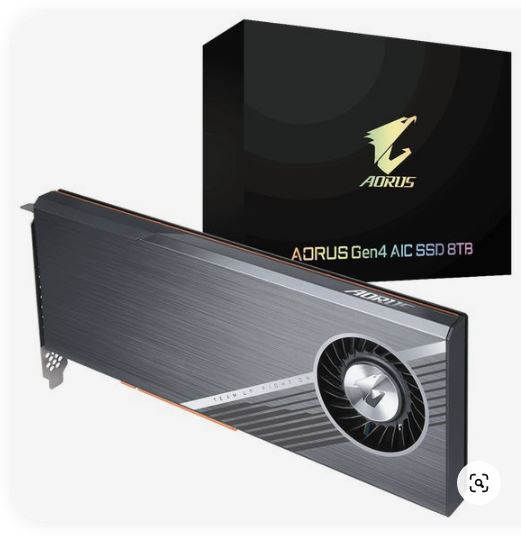 The majority of users in this category are gamers and fast-speed enterprises. The latest specification for PCI is 5.0 and version 6.0 is already on the card, expected to launch within this year 2021. But, on the market, you can only see PCI 4.0 in play.
This kind of form factor is the largest when compared with others. So, you can put more chips on the card and with a better cooling system, you can make it run faster.
Not all the motherboard has an M.2 slot with new PCIe 3.0 interface. It might be using an older PCIe 2.0 interface or a slower x2 slot. For a low-budget motherboard, there may not even be an M.2 slot. 
Yet, all the motherboards will have various x4 or x8 slots for you to put in your sound card or graphic card. The SSD AIC (add-in-card) will be handy in this kind of situation. 
7) None
Here refer to SSD soldered onto the motherboard. This allows less space use by the SSD. It also provides more resistance to shock and vibration.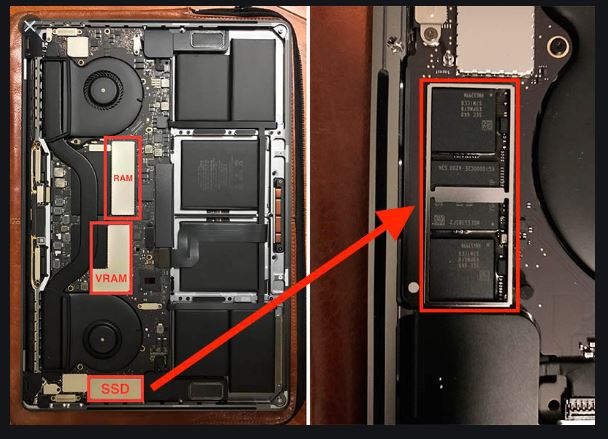 One example is the latest Macbook Pro, which has its SSDs soldered onto the motherboard. Those SSDs have a good lifespan and they last as long as the Macbook. 
But, not all computers are the same. When your motherboard fails your SSD will be gone.
Your Choice?
Depending on the type of SSD, your computer performance will vary for the next few years. 
After you have decided which kind you want to buy, it is time to understand the process of installing the SSD inside your computer. Want to gather further information to confirm your decision? Read our next article to have more insight. 
Why Use SSD Drive?
Because it is more reliable, quieter and faster than conventional HDD. With so many advantages, you will want to choose the best SSD drive for your computer. We have done the research for you to choose the best SSD drive you love to have.